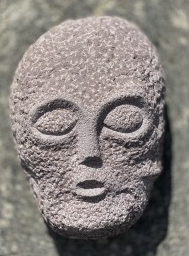 The scary, terrifying god seeking to steal our harvest?
Since I started working on preparing for my personal Lúnasa festival, Crom Dubh as a figure has appeared on numerous occasions and has managed to consistently distract my attention from the actual ritual. To be able to move on and engage with the festival, I have promised him a class, where I will do my best to bring him to life once again and present as rounded a view as I can find of him.
With that in mind, I present this class on Crom Dubh, exploring his name, what we know of him, what tales and myths have survived in modern awareness, as well as the tales and legends we have surviving in folk lore and legend. He's a fascinating, elusive character in some tales and well worth learning more about to understand both our ancestors attitude to the earth's bounty and our modern links to such activities, or how we might develop them.
Why to take this course?
If you have even heard of Crom Dubh and want to know more, or if now you have heard of him and want to learn more, this is the course for you!
Equally, if you want to understand some of the complexities of figuring out an elusive deity from the Irish pantheon who is definitely not a member of the Tuatha De Danann, Crom Dubh is one to look at.
Or maybe you want to understand more about the deities related to harvest time in Ireland and what that tells us about our ancestors?
There's a lot in this course and a lot more I had to leave out, but I hope it gives a good grounding for anyone wanting to start a journey with Crom Dubh.
Example Curriculum
Available in days

days after you enroll

Orientation/ Before the course starts
Available in days

days after you enroll

Class Presentation
Check your inbox to confirm your subscription